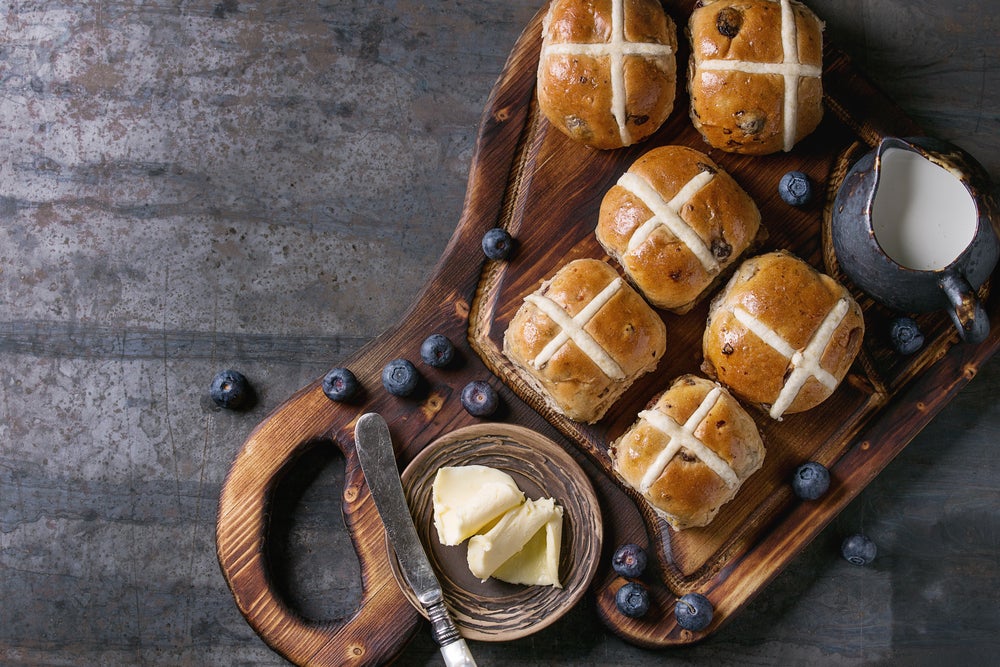 Ingredients
Ingredient Checklist
½ cup water

1 (.25 ounce) package active dry yeast

1 cup buttermilk, room temperature

2 tablespoons white sugar

½ teaspoon baking soda

1 teaspoon salt

1 teaspoon ground cinnamon

⅓ cup margarine, melted

3 ¼ cups all-purpose flour

⅔ cup raisins

½ (16 ounce) container prepared vanilla frosting
Directions
Instructions Checklist
Step 1




Measure the water into a large bowl and sprinkle the yeast over the top. Let stand about 5 minutes to dissolve the yeast. Stir in the buttermilk, sugar, baking soda, salt, cinnamon and margarine. Mix in 1 cup of flour until well blended, then stir in the raisins. Gradually mix in the remaining flour until the dough is stiff enough to take out of the bowl and knead on a floured surface. Knead the dough until smooth and elastic, about 5 minutes. Place in a greased bowl, turning to coat and cover with a towel. Let rise in a warm place until doubled in size, about 1 hour.

Step 2




Turn the dough out onto a floured surface and divide into 18 pieces. Shape each piece into a ball and place in a greased 9x13 inch baking dish. Cover loosely with a towel and allow to rise again until your finger leaves an impression when you poke the dough gently, about 45 minutes.

Step 3




Preheat the oven to 375 degrees F (190 degrees C). Remove the towel from the buns. Bake in the preheated oven until golden brown, about 20 minutes. Spoon the frosting into a small sandwich bag or pastry bag. Snip off the corner and squeeze out frosting to make a cross on top of the buns when cool.
Nutrition Facts
Per Serving:
194 calories; protein 3.2g; carbohydrates 32.8g; fat 5.7g; cholesterol 0.5mg; sodium 241.8mg.